Ankylosing Spondylitis is the chronic inflammation of the spine and the sacrolliac joints. The spine is the support of the body and the sacroiliac joints are located at the base of the lower back. Long-lasting swelling in these areas causes pain and stiffness in and around the spine, including the neck and back. Over time, if the conditions persist it will result in the spine (spondylitis) cementing together of the vertebrae known as ankylosing which shall cause loss of mobility of the spine. Ankylosing Spondylitis (AS) affects your back, shoulders, neck, butt, and hip. Here are some of the best exercises for Ankylosing Spondylitis:
Press Up to Stretch Your Spine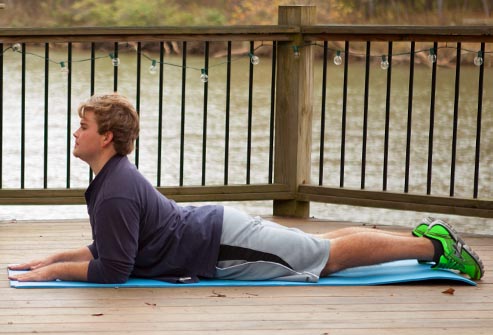 Ankylosing spondylitis (AS) inflammation can shorten the spine and muscles in your back. Stretching with this exercise helps "rounded" back and back pain. Lie flat on your stomach. Keeping your legs to the ground, slowly prop yourself up on your elbows. Lift your chest off the ground. Straighten your arms. Stretch to your maximum height. Hold for 10 to 20 seconds. Repeat this workout 3-5 times. Do this move once a day for best results.
Wall Sit for a better posture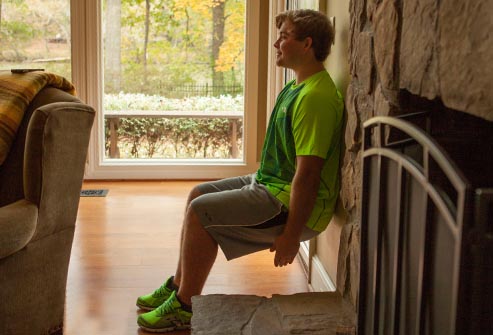 Correct posture is the best exercise for Ankylosing spondylitis. Stand straight with your back against a wall. Stretch your legs in front of you keeping the feet shoulder-width apart. Slowly slide your back down the wall. Take a position like you're sitting in a chair. Hold for 5 to 10 seconds. Hold for longer as you get stronger. Repeat 3-5 times. Do 3 to 5 times a week.
Plank for a stronger core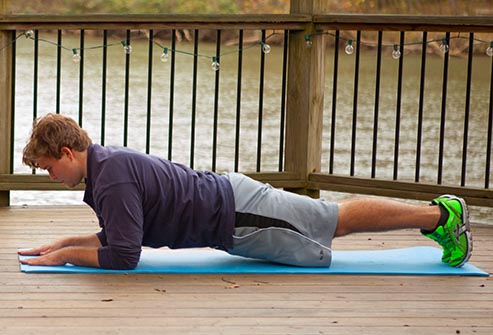 Stomach, back and butt muscles helps your posture. The right muscles need to be exercised. Kneel on a mat. Put your forearms on the ground. Push your legs out behind you. Stretch to your maximum height balancing yourself on your toes. Keep your body in a straight line. Squeeze your stomach and butt muscles. Keep your neck in alignment with your spine. Don't crane your head up or let it hang down. Hold this posture for 5 seconds. Repeat the routine 3-5 times. Add more time as you gain strength and stamina. Do this 3 to 5 times a week.
Try Standing with Leg Raised to loosen tight hips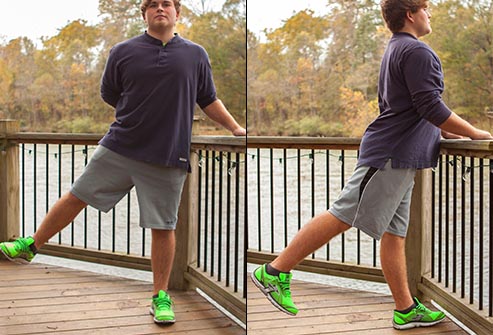 Ankylosing spondylitis locks your body and allows minimal movement. The best way to beat it is movement in lower limbs. As this move is too hard at first, proceed gradually. Start with a standing position with your feet flat on the floor and your forearms on the kitchen counter or a higher surface where you do not have to bend. Keep your core tight. Next, hold the back of a chair or railing. Keep your back straight with a slight bend in your knees. Slowly lift one leg out to the side so it's a few inches off the ground. Then lower it back to the starting position. Next, kick the same leg straight behind you to 45 degrees. Remember to keep good posture. Do not bend over at the waist. Repeat 10 to 15 times on each leg. Do this move 3 to 5 times a week.
Do Chin Tucks to Stretch your neck
As the spine gets affected in Ankylosing spondylitis, the neck also gets tight. The stiffness gives you headaches. This exercise can strengthen your neck help keep you upright and relieve tightness. Start with lying flat on your back. Without lifting your head off the floor tuck your chin in slightly towards your chest. Hold for 5 to 10 seconds. Repeat 3 to 5 times. Do this stretch twice a day. If you feel uncomfortable, place a small, rolled up towel under your neck.
Roll your shoulders to loosen up
AS builds up tension is your spine. Loosen your shoulders to negate the discomfort. Stand or sit up tall. Keep your spine as straight as you are comfortable with. Gently shrug your shoulders up toward your ears, then move your shoulders back and down. You can feel this in your upper back. Think about pulling your shoulder blades together and down in a rolling motion. Then pull your shoulders back up toward your ears. Repeat 5 to 10 times. Do this stretch daily.
Stretch Your Hips to Ease Low Back Pain
Stretching helps relieve inflammation. This exercise lengthens the muscles at the front of your hips which connect to your lower back. With your hands on your hips for balance, take a big step forward. Sink into a half squat. Move your back knee down and rest it on the ground. Keep your back upright. Be careful not to bend forward at the hips. You should feel this stretch in your back leg (the one that is resting on the ground). To get a deeper stretch, gently push both your hips forward. Hold for 20-30 seconds. Repeat the exercise with your other leg. Hold a chair for balance if needed. Do this stretch daily.
Corner Stretch to Open Your Chest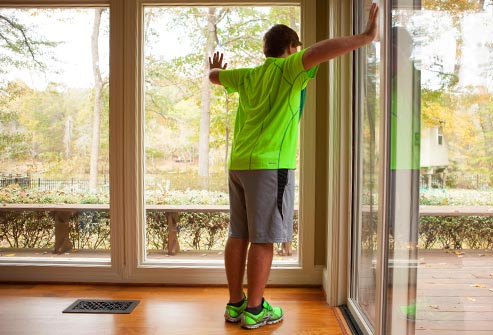 This exercise in another form of stretching out the muscles and joints. Find a corner and stand facing it. Raise your arms up. Rest the palms of your hands on the walls. Gently press your chest toward the corner. Your arms will provide tension. You'll feel the stretch across the front of your chest. Along your back, you'll feel your shoulder blades move toward each other. Hold for 20 to 30 seconds. Do this stretch daily.
Walk, Move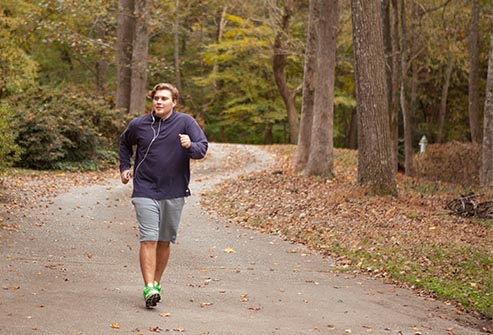 Exercises ease pain and inflammation. When the heart rate is boosted, it also makes feel-good chemicals in your body. Any kind of exercise is great. Movement, posture and weight-bearing exercises when your joints have to support your weight are the trick. Walking is the best exercise to try. When your legs support your body weight it helps "feed" the cartilage in your joints and spine. Go on walk on most days of the week. Start with 5 to 10 minutes a day. Try to work up to 30 minutes or more.
Take Deep Breaths
Ankylosing spondylitis (AS) patients eventually notice that they have trouble fully expanding their ribs and chest while they breathe. Deep-breathing exercises helps prevent this problem. Several times a day, take 3 to 4 deep breaths. Focus on pulling air deep into your chest as you inhale then, exhale slowly.
Also read: Tips to Relieve Your Back Pain